EMC
ETS is an independent UKAS accredited, award-winning company providing EMC testing, certification, consultancy and troubleshooting of EMC problems covering most product groups.
Antenna Calibration
ETS is also UKAS accredited to carry out antenna calibration 20 MHz to 18 GHz, Free Space • 10m • 3m • ARP958, DEF 59-41
GET A QUOTE

EMC
GET A QUOTE

Antenna Calibration
Latest news
Behind the Uttlesford Business Awards: Overall winner, Dunmow firm Electromagnetic Testing Services
George Vassila, director of Electromagnetic Testing Services Ltd (ETS), and his team took home not one, but two coveted prizes on the night, scooping Small Business of the Year and Business of the Year. The company is an electromagnetic compatibility test laboratory, and ensures electrical systems comply with standards and do not cause other equipment […]
New 3m Anechoic Chamber
The new extension to our facilities was completed in January 2019. It houses a new 3m anechoic chamber which expands our testing capabilities. The new chamber is also adapted to allow antenna calibration. ETS is now UKAS calibrated for antenna calibration in the frequency range 20 MHz to 18 GHZ.
See more news
Featured
UKAS Accredited Antenna Calibration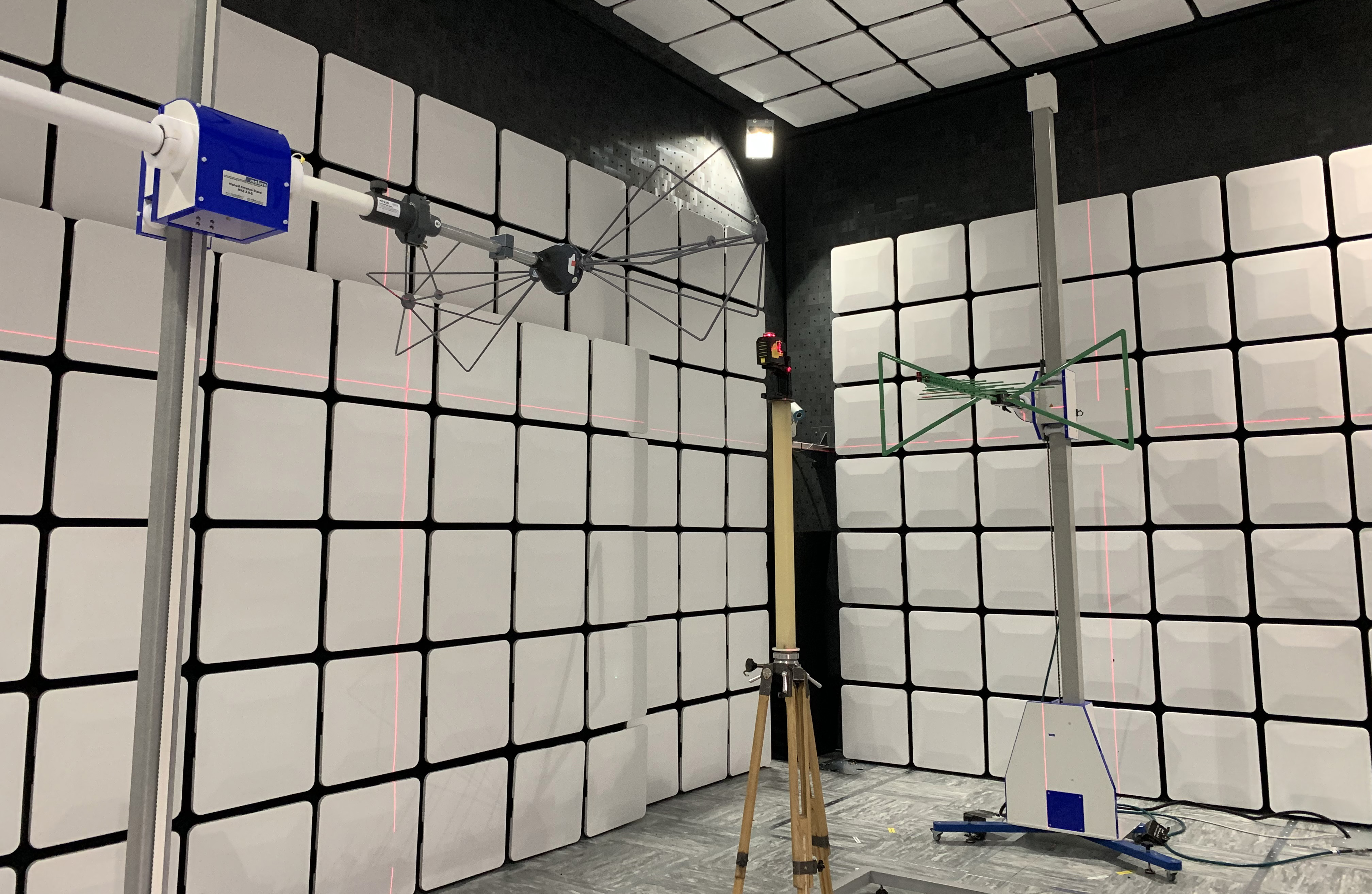 ETS offer UKAS accredited calibration in the frequency range 20 MHz to 18 GHz covering a wide variety of antennas including:
• Biconical • Log Periodic • Bi-log Hybrid • Horn Antennas
Our scope of accreditation covers:
• Free Space • 10m • 3m • ARP958, DEF 59-41 • Reference antenna method as per the requirements of CISPR16-1-6 and CISPR16-1-5
Measurement properties:• Antenna factors
• BALUN Measurements • Reflection Coe • Beam Width • Antenna Gain
See more
Contact Us
We are located near Stansted Airport and the Mll on a two acre site in rural Essex, England UK.
Electromagnetic Testing Services Ltd,
Pratts Fields,
Lubberhedges Lane,
Stebbing, Essex,
CM6 3BT, England,
UK
We are located near Stebbing, a village in north Essex, approximately 10 miles from Stansted Airport and the M11. GPS Coordinates: N 51° 55'5.01″, E 0° 24'32.55″
Get directions